Environmental specialists for insurance sector
Manage your environmental insurance claim effectively and efficiently through the full lifecycle.
We help loss adjuster and insurance partners manage their environmental insurance claims effectively and efficiently through the full lifecycle including response, site investigation and remediation, where either property or the environment is contaminated by pollution.
Clear communication, management of expectations, proactive programmes of work and management of elapsed time ensure our clients' customers can get back up and running quickly, and with the least amount of disruption. 
Tackling key challenges in the insurance sector
Emotion
When a pollution event threatens a business or even more so a domestic dwelling, understandably emotions run high. Loss adjusters and insurance companies need an environmental partner that can conduct their investigation and remediation work thoughtfully and pragmatically so as not to add fuel to the fire. Managing the expectations of the impacted party is key to successfully delivering a claim.
Communication
Communication and speed are critical in the hours immediately following an environmental incident. This expert communication is also vital throughout the remediation process to ensure all parties are informed with regular updates on progress. Consultants should be pragmatic yet sympathetic to ensure the most professional approach.
Disruption
The biggest issue for commercial clients in an environmental pollution incident is downtime. While they are not trading, in most cases they are not earning. Loss adjusters and insurance companies are under pressure to resolve cases quickly to reduce downtime. This should not be done at the risk of missing vital evidence or not carrying out thorough remediation.
More frequent severe weather events
With climate change come more incidents of extreme weather. These severe weather events can have huge environmental repercussions from damage to containment systems and storage infrastructure. The more extreme the event, the more widespread the pollution potential.
The polluter pays
This is a legal principle enacted on most environmental liability claims. Following a pollution event, the first step is to identify the source of contamination to mitigate the loss and establish liability. If pollution is traced to one source, they are liable for the clean up costs. If multiple sources are identified, parties can find themselves in litigation to apportion liability and clean-up costs. Where a pollution source cannot be identified, nearby parties can become suggested sources, having to prove otherwise to avoid liability.
Claims

Property claims
Property damage because of an oil loss from an oil storage infrastructure, oil fired boiler, cooking appliance or associated pipework.

Motor claims
Complex motor claims within the hazardous goods industry, such as tanker rollovers and train derailments.

Liability claims
Liability claims, whether public liability, occupier's liability, contractors' pollution liability, or more specialist environmental impairment liability, resulting from pollution and contamination.
Agricultural claims
Failure of slurry, silage, liquid fertiliser, or fuel oil storage facilities.

Major and complex loss
Major and complex loss insurance claims where property, human health or the environment are at risk from pollution or contamination.

Private clients
We use our experience to anticipate and manage the distinctive challenges that come with dealing with high-net-worth claims.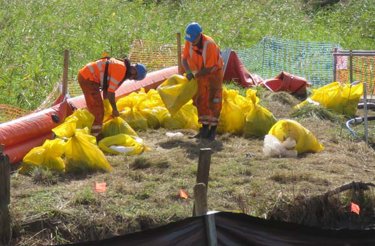 Environmental claims management
Manage your environmental insurance event effectively and efficiently through response, site investigation and remediation.
Accreditations, certifications, and memberships
UKSpill
UKIFDA
IOSH
Oil Care
SafeContractor
Constructionline
CHAS
BSI ISO 9001
ISO 14001
ISO27001
ISO45001
Key stats
15,000 incidents managed.
"We would like to express our thanks and appreciation for the way your personnel have dealt with the problems caused by the recent loss of oil from our tank. They have been most helpful, pleasant, and conscientious throughout the whole process, from emergency removal of oil from our leaking tank, the subsequent investigations and excavations and finally the excellent restoration of the site."
Policyholder
Key contacts

Dan Jones
Managing Director, OHES
Keep your business compliant and protect the environment while reducing the risk of operational downtime
Find out how Adler and Allan reduce your risk and support you on your journey to Net-Zero through the management and maintenance of assets.
Contact our experts