Storage tank inspection and testing
Minimise your risk with regular storage tank inspections.
We help operators with tanks on their sites minimise the risk of asset failure, leakages, content contamination, and pollution by providing regular storage tank inspections so that they can remain compliant.
Before every audit, our industry-leading experts visit you onsite to discuss your specific requirements and assess your underground, ground level, or above ground systems.
Using the latest high-pressure or ultrasonic technology, our skilled engineers and specialist welders test for leaks and structural concerns, repair faulty tanks, and provide full follow-up documentation.
Our inspection and reporting services cover tanks used for fuel, water, chemical, and food storage, and are compliant with EEMUA 159, API 653, OFTEC Guidelines and NDT Inspection Standards.
You should carry out routine inspection and maintenance of containers and keep a record of when and who carried out the work.
Features and outputs
Skilled engineers and specialist welders test for leaks and structural concerns, repair faulty tanks.
Full follow-up documentation provided to record when and who carried out the work.
Testing and inspection compliant with EEMUA 159, API 653, OFTEC Guidelines and NDT standards.
Members of Tank Storage Association and Associate Member of EEMUA and accredited to BSI 9001: 2015 and UKAS accredited.
Added value

Expertise
API510 Pressure Vessel Inspector, API 653 Tank assessors and API 570 Pipeline Assessors in house.

Capability
DSEAR trained engineers.

Remediation
Wider group capability around remediating faults found in tanks.

Compliance
Tank cleaning and maintenance schedules for complete compliance.

Additional services
We can also specify and design your tank.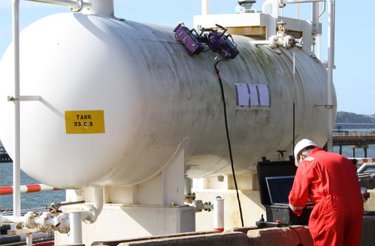 Non-destructive testing (NDT)
Market-leading non-destructive testing (NDT) and analysis to EEMUA 159 and API 570 and 653 standards.
CIRIA C736
Regulator issued CAR (Compliance Assessment Report) papers state that operators must provide evidence that their asset/facility meets CIRIA C736.
Duty holders should prepare an appropriate inspection and maintenance regime for their facilities. Where one does not exist, each containment facility should be classified. The classification should be reviewed at least once every five years, or where:
there are any modifications made to the primary or secondary containment,
the volume of material in the primary containment is increased,
the nature of the material in the primary containment is changed.
There are three principle types of inspection and maintenance:
Routine
Periodic
Detailed
Routine inspection
HSG 176 recommends:
All plant should be inspected for damage and deterioration. In addition to planned formal examinations, this inspection should be a combination of routine visual inspection by operations staff looking for obvious deterioration or damage.
Examination of tanks, pipework and fittings should be carried out by a competent person. This could be a specialist inspection engineer employed by an insurance company or other third-party inspection body. Alternatively, an employee with the appropriate qualifications, experience, and competence.
A scheme of examination should be agreed between the user and the competent person, to include the scope and frequency of thorough examination. The intervals between internal examinations should be determined using a risk assessment approach based on tank service, maintenance history, and known and potential damage mechanisms and their rates of attack. Intermediate external examinations should also be carried out on above-ground tanks.
GPP2: Above ground oil storage tanks recommends:
You should look for anything on or around your tank installation that could indicate a leak is likely to happen, or oil has been lost to the environment. You should:
make sure that the tank installation isn't becoming overgrown with vegetation that would hide the condition of the tank.
check the tank base or supports for cracking or subsidence.
ensure the tank has a working contents gauge; if this has a valve make sure it's closed.
check all visible pipework, valves and filters for damage and signs of leaks, such as dampness or staining, especially around joints.
check vegetation around the tank for signs of die-back
check secondary containment (tank bunds) for liquid or rubbish.
check that drip trays for remote fill pipes haven't got any oil or water in them, check the waste oil information for how to dispose of any liquid.
More information can be found here.
Periodic inspection
OFTEC recommends:
In accordance with OFTEC Class II examination procedure, a registered inspector would ensure that the following areas are effectively reviewed:
The condition of tank surfaces and supports.
The area beneath/around tank and nearby fittings and pipe work.
An inspection of gauges and the bund.
An Inspection of filling and venting provisions.
Examination of signs of ground contamination and/or loss of product.
Tank installation compliance.
An inspection of Control of Pollution (Oil Storage) (England) provisions where applicable.
SFG20 recommends:
12 monthly check and inspection and integrity test are required for compliance with Control of Pollution (Oil Storage) Regs 2001 and must form part of a site-specific environmental management system (EMS).
Detailed inspection
EEMUA 159 guidance includes assessments for above ground vertical tank integrity and safe operation, as well as maintenance of in and out of service storage tanks for bulk fluids. It is intended as a general inspection, maintenance, and repair guide applicable to above ground vertical cylindrical steel storage tanks built to standards such as BS2654, SPI 650 and EN 14015.
Please see Appendix B Inspection checklists and frequencies for inspections.
* Depending on Product Stored
After each detailed internal and external inspection, the Tank Integrity Assessor will determine the date for the next inspection. This date should ensure that the corrosion rejection limits are not exceeded.
API 653 is the maintenance and inspection standard for tanks built to API 650 standards. It requires that as a minimum external NDT testing should be conducted every 5 years for an external inspection and every 10 years for an out of service inspection. Unless a certified inspector recommends a modified regime based on tank condition.
STI SP001 Standard for the Inspection of Above ground Storage tanks by the Steel Tank Institute includes the inspection and testing of above ground shop fabricated tanks.
Tank audits and inspections
As well as a weekly visual check, you should use a qualified technician to carry out a detailed annual inspection and service of your storage facilities, including:
checking the condition of tank surfaces and supports for pipework.
checking the condition and operation of pipework and fittings.
removing and disposing of any condensation water or sludge in your tank.
You should receive a report about your tank which details any faults that must be fixed before you can continue to use your storage tank.
Ensure that an appropriate 'routine' inspection schedule is documented and records kept.
Establish a 'periodic' inspection – 12 monthly by registered / competent person.
Work with a qualified inspection organisation to develop a Written Scheme of Examination for 'detailed' inspection – typically external 5 yearly, internal 10 yearly intervals.
Ensure all 'routine', 'periodic' and 'detailed' inspection records are retained for submission to the competent authorities.
DSEAR inspections
DSEAR (which stands for the Dangerous Substances and Explosive Atmospheres Regulations 2002) requires employers to assess the risks of fires and explosions that may be caused by dangerous substances in the workplace. DSEAR also covers the risk caused by gases under pressure and substances that are corrosive to metals.
Under DSEAR our experts can assist you in assessing and eliminating or reducing the risk from dangerous substances. We can help you to put control measures in place to eliminate risks from dangerous substances, or reduce them as far as is reasonably practicable. Where it is not possible to eliminate the risk completely we can help you to design measures to control risks and reduce the severity of any harmful event.
Arrangements must be made to deal with emergencies. These plans and procedures should cover safety drills and suitable communication and warning systems and should be in proportion to the risks.
Integrity testing
We offer EPA-certified precision tank and line testing technology through our exclusive agreement with Leighton O'Brien.
The most accurate integrity test on the market can detect ullage leaks equivalent to 0.09 litres per hour, making it four times more accurate than traditional leak detection thresholds. This allows customers to detect the smallest leaks.
The technology also benefits fuel retail and commercial customers by reducing forecourt downtime as the test is fully automated, optimising technician time onsite. The tank test time is one hour and seven minutes, three minutes for a dry line test and 17.5 minutes for a wet line test.
Modern fuel formulations are changing the rules for fuel retailers in terms of preserving the lifecycle of their storage tank asset. Major oil companies need to ensure the integrity of their fuel systems by testing with the best technology available and third-party review to ensure their tank systems are 100 per cent tight, preventing water ingress that can cause biological activity, accelerated corrosion and contaminated product unfit for sale.
OFTEC inspections
According to the Fuel Storage Regulations, oil storage facilities, should be inspected annually in accordance with current Pollution Prevention guidelines and OFTEC. Our OFTEC accredited auditing ensures oil storage facilities, including storage tanks, separators, bunds and pipework, meet current legislation by facilitating annual inspections and managing required maintenance to ensure continued compliance.
Remote tank inspections
Using our non-man entry, ATEX Zone 1 device for visual inspections and tank cleaning, AdlerView™ can be used to remotely inspect and clean fuel tanks both above and below ground, from a van positioned up to 50 metres away.
The device vastly reduces the costs associated with removing tank lids and improves health and safety of traditional man-entry tank inspections.
As well as being ATEX Zone 1 registered, the AdlerView™ has improved lighting, control and movement and is waterproof. A full report and video of the inside of the tank will be produced on behalf of the client to demonstrate the results of the inspection.
Using AdlerView™ means that clients can get faster, more accurate diagnosis of issues, with video evidence, meaning less downtime for their customers. The device also reduces the health and safety risks of man-entry tank inspections, as well as significantly reducing the associated costs.
Man-entry tank inspections
Our qualified confined space entry technicians will enter the tank to report on the condition from inside, where a remote inspection is not possible or practical.
You might also be interested in...
Keep your business compliant and protect the environment while reducing the risk of operational downtime
Find out how Adler and Allan reduce your risk and support you on your journey to Net-Zero through the management and maintenance of assets.
Contact our experts