Environmental incident management
Preparedness and rapid response for a wide range of spills, pollutants, and environmental incidents.
We help organisations prepare for and respond quickly in the event of an environmental incident with 24/7-365 emergency response, preparedness planning, training, contracts, and exercises.
If the worst happens, we respond to incidents involving oil, chemicals, hazardous material (hazmat), hazardous and noxious substances (HNS), flooding, sewage, and other types of pollution so that you can minimise the impact on the environment, operational downtime, levels of fine, avoid prosecution and maintain your reputation and shareholder value.
---
Demonstrating reasonable endeavour in an incident
You will never be given a permit for a spill. That's why your operation needs to demonstrate it has taken all reasonable endeavours to mitigate against one.
The Water Resources Act states that 'It is an offence to cause or knowingly permit any poisonous, noxious or polluting material, or any solid waste to enter any controlled water.'
The Environmental Permitting Regulations state: "It is an offence to cause or knowingly permit a water discharge activity or a groundwater activity without an environmental permit."
Reduce the risk
Ensure safety, minimise damage to the environment, operational downtime, prosecution, fines, reputational damage, shareholder value.
These are all implications of an environmental incident. Our response and preparedness services, and expert response capability will help you reduce your risk.
Features
24/7-365 environmental incident and emergency response.
We bring relevant experts in the volume required as we know every incident is unique.
We have emergency service trained incident responders to take control of any situation.
Access to prioritised response and preferential rates and discounts with our Response Plus contract.
Prepare for and reduce the impact of environmental incidents with our response and preparedness solutions.
Added value

Award-winning
UK and Ireland Spill Association best inland and marine responders 2022.

Response
We respond to over 10,000 environmental spills every year.

Communication
We're used to working with the emergency services as we have been trained by them and use their language.

Trusted
International Spill Accreditation Scheme (ISAS) accredited spill response contractor. Main contracted responder for the Environment Agency.

Honed skills
We have perfected our approach over 20 years to pull in the resources at the exact time they are required.
Key stats
250+ UK organisations have emergency response contracts with Adler and Allan.

We respond to over 10,000 environmental incidents every year.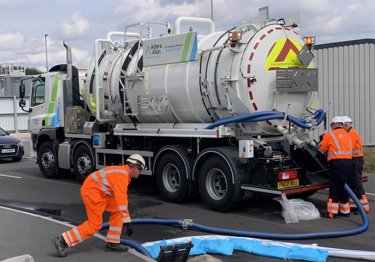 Emergency response
Rapid response 24 hours a day, 365 days a year in the event of an environmental incident.
"Todays exercise had a successful outcome, although it was simulated of course. The Port of London has a lot of marine resources but Adler and Allan brought their shoreside equipment, skimmer, tanker and a whole host of people to enable us to deploy the boom from the shore. We chose Adler and Allan (to be our Tier 2 Oil Spill Response Organisation) because of their expertise in the field, the range of equipment they have available, and the nationwide 24-hour response."
Miles Featherstone, Deputy Harbour Master, Port of London Authority
Keep your business compliant and protect the environment while reducing the risk of operational downtime
Find out how Adler and Allan reduce your risk and support you on your journey to Net-Zero through the management and maintenance of assets.
Contact our experts