Environmental risk management
Understanding the environmental risks on your sites and how to reduce them.
We help site operators understand the environmental risks on their sites by identifying potential hazards and their potential to impact the environment to ensure your operations remain compliant and you can take action where non-compliance exists.
For clients with a portfolio of operational sites we can undertake a full review examining each sites infrastructure and environmental risks, which can then be used to rank each site by order of risk to help identify the highest priority sites for remedial.
This valuable information can be used to manage and improve assets, enable more effective spending of resources, whilst reducing the risk of pollution occurring and the associated prosecution and fines for environmental damage.
Features and outputs
Demonstrate effective environmental risk management for ISO accreditations.
Informs incident response plans to make them more effective.
Reduce risk of operational downtime, fines, and reputational damage.
Allows more effective spending of resources by focusing on the sites with the highest environmental risk.
Our experts can provide a range of environmental risk management services to ensure your operation remains compliant.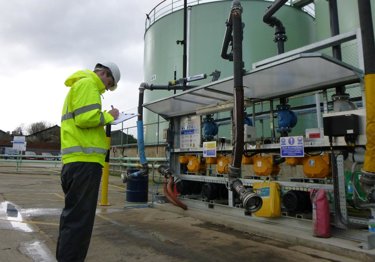 Environmental risk audit
Our environmental risk audit will help you understand and manage your sites' environmental risks and suggest strategies to reduce them. Our qualitative risk assessment is combined with a quantitative risk matrix to help you prioritise your planned preventive maintenance strategy or remediation works.
COMAH Environmental Risk Tolerability Assessment (ETRA)
These quantitative assessments are required for all sites registered under the COMAH regulations and assess the risk of a major accident to the environment (MATTE).The guidance for completing these is set out by the Chemical and Downstream Oil Industry Forum (CDOIF).
All upper tier COMAH sites need to have this ETRA and have it approved by the competent authority. Lower tier COMAH sites – must also have an ETRA but it can be held on file and not submitted.
The ETRA determines if there is the potential of a major accident to environment and ranks the risk as intolerable, tolerable if reduced as reasonably practicable (TifALARP), or tolerable. The assessment considers different hazard scenarios such as fire, overfill, explosion, catastrophic tank failure, and the mitigation in place to contain it.
The assessment also considers whether the nearby environment has MATTE potential ie if it has sufficient sensitivities to meet the MATTE threshold.
CDOIF Guidance explicitly states 'When completing an environmental risk assessment there is a need to ensure that relevant competent resources are used throughout the process. In the context of this guidance, it is likely that environmental specialists will be involved with the identification of potential Major Accidents to the Environment (MATTEs), and in determining the thresholds that should apply to those receptors around the establishment.
Drainage assessment and survey
Site drainage can provide a primary pathway, and therefore an accurate understanding of the drainage condition and connectivity is fundamental to site environmental planning and security.
We help site owners and operators ensure preparedness for a pollution incident by understanding the layout, condition and type, connectivity, capacity, and condition of your site's drainage, so that you can ensure compliance with pollution prevention guidelines.
You might also be interested in...
Keep your business compliant and protect the environment while reducing the risk of operational downtime
Find out how Adler and Allan reduce your risk and support you on your journey to Net-Zero through the management and maintenance of assets.
Contact our experts